Kaedah Pengilmuan Swacuan
Keywords:
penswacuanan pengetahuan, pemeribumian ilmu
Abstract
Abstract
It is explained that knowledge grows in a mould created by scholars concerned and the meaning of a mould of knowledge is shown to have different features than the famous knowledge paradigm introduced by Kuhn in 1962. The present science is shown to be in a mould created by the European (Western) scientists, whereas the knowledge in other moulds created by other nations or civilisations do exist but fossilised or stagnated as they are overlaid or enclosed and restricted by the colonial (Western) mould. Knowledge in other mould is given the name by the European scholars as the ethnoknowledge which is regarded as far inferior than the Western knowledge. But since 1960s the knowledge in the Islamic Civilisation is re-excavated and highlighted its mould as well. In 1970's to especially 1990's the Western knowledge is re-examined in the Islamic mould and a new knowledge is materialised in this mould via a research activity known as the Islamization of knowledge. But since 1995, the author introduced a new research activity wider than the Islamization of knowledge and it is given the name as the pemeribumian ilmu (or literally but not the same concept as the Western indigenisation of knowledge). The mould of knowledge in the pemeribumian ilmu is referred to as the our own mould or in short self-mould and more specific as the Malayonesian mould of knowledge. The research activity is referred to as the self-moulding of knowledge or construction of knowedge via a self-mould. This article is filled with the explanation of this activity and some results of the research done by the author since 2010-2021 are listed in the appendix of this paper. 
Abstrak
Pengetahuan dijelaskan berkembang dalam acuan ilmuwan berkenaan dan maksud acuan itu dijelaskan sehingga menampakkan ada perbezaannya dengan paradigma pengetahuan yang masyhur dan diperkenalkan oleh Kuhn dalam 1962 itu. Sains sekarang adalah dalam acuan ciptaan ilmuwan Eropah (atau Barat) manakala ilmu dalam acuan bangsa-bangsa lain memang wujud tetapi telah terfosil atau tergenang ditimbusi atau dikepungi dan diempangi oleh acuan kolonial (Barat). Ilmu dalam acuan lain ini diberi nama oleh ilmuwan Barat sebagai etnoilmu yang dianggap jauh rendah tarafnya berbanding dengan ilmu Barat. Namun sejak 1960-an ilmu dalam Tamadun Islam diekskavasi dan disembulkan juga acuannya. Dalam tahun 1970-an hingga terutamanya tahun 1990-an ilmu baharu dalam acuan ini cuba diketengahkan menerusi kegiatan yang diberi nama pengislaman ilmu. Sejak 1995 penulis terpanggil memperkenalkan kegiatan penyelidikan yang baharu yang lebih luas daripada pengislaman ilmu yang diberi nama pemeribumian ilmu yang bermaksud pembinaan ilmu dalam acuan peribumi khususnya peribumi di Asia tenggara ini yang dijenamakan semula oleh penulis ini sejak 2008 sebagai Malayonesia sejak dahulu kala hingga kini, oleh itu berbeza pula dengan konsep indigenisation of knowledge oleh Barat. Acuan ilmu ini distilahkan sebagai acuan sendiri atau swa-acuan yang diringkaskan juga sebagai swacuan. Kegiatannya diistilahkan sebagai penswa-acuanan ilmu atau perolehan ilmu (atau pengilmuan) menerusi swa-acuan. Makalah ini mengupas maksud kegiatan ini dengan beberapa contoh hasilnya oleh penulis sejak 2010 hingga 2021 disenaraikan pada umbaian makalah ini, walaupun kegiatan ini secara tersiratnya dimulai sejak 1990-an lagi.
Downloads
Download data is not yet available.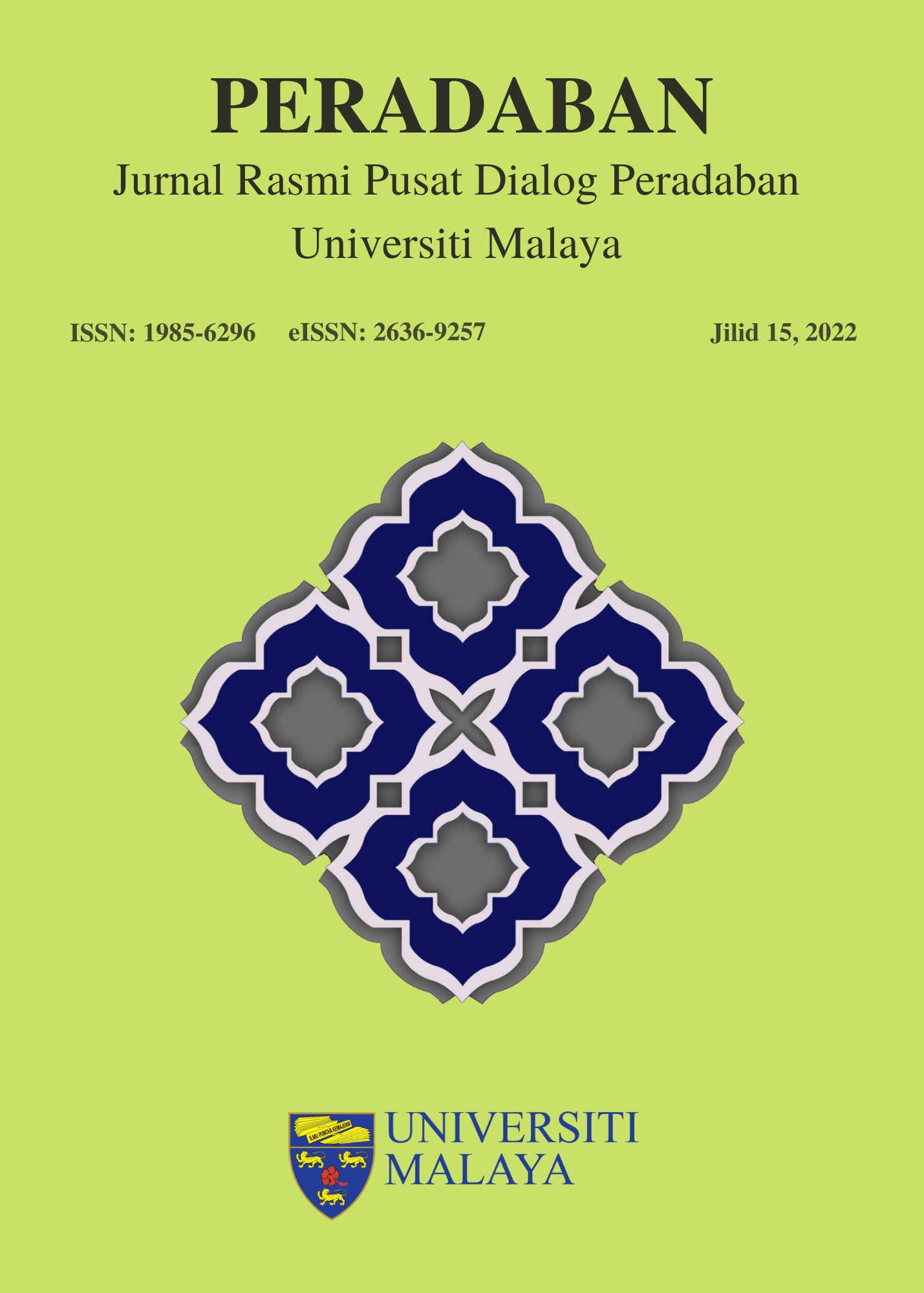 Downloads